Appliance Installation
Professional Electrical Appliance Installations
Looking for professional installation service for your new appliance? We have a wide range of services to choose from, so you can find the perfect one for your needs. Plus, we only use qualified and experienced electricians who will get the job done quickly and efficiently.
You'll be able to use your new appliance as soon as possible – without any hassle. We understand that you're busy and don't have time to waste, so we work fast to get the job done right. Book an expert experienced electricians today.
Book Appliance Installation
Appliance installations specialists
We're experienced in electric appliance installation and can help with everything from air conditioning to ovens and cooktops. We also provide power requirements such as additional power points and dedicated circuits.
Our electricians are fully experienced in all types of appliance installation as we've been servicing customers in Brisbane for many years with happy results. Here's a complete list of the appliances we repair and install:
Built-in coffee machines
Built-in microwaves
Ceiling fans
Clothes dryers
Cooktops
Dehumidifiers
Dishwashers
Electric heaters
Exhaust fans
Fridges
Heat lights/lamps
Outdoor lighting
Ovens
Rangehoods
Stoves
Wall mount televisions
Washing machines
Wine fridges
Oven Installation
You want an oven that's not only safe and efficient but looks great too – and we can help with that. We have a wide range of stylish ovens to choose from, so you can find the perfect one for your home. Book an oven installation today.
Cooktop Installation
We can help you install your new cooktop quickly and easily, ensuring that it meets all safety clearance standards and manufacturer's guidelines. You can rest assured knowing that our team of qualified electricians will get the job done quickly and efficiently, so you can start using your new cooktop as soon as possible. Book today.
Ceiling Fan Installation
Ceiling fans are not only a great way to cool down a room but they can also be used as a feature piece in your home. They come in many different styles and sizes so you're sure to find one that suits your needs and taste. Plus, when you install a ceiling fan through All Purpose Trade Solutions, you can be sure it will be done quickly and properly – no headaches or hassles for you. Contact us today for a free consultation about installing ceiling fans in your home.
Air Conditioner Installation
Stay cool without breaking the bank with our professional air conditioning installation services. Whether you need a new split system, ducted or a multi-split system we can help. We have been providing quality air conditioning services to the residents of Brisbane and the surrounding areas, and our team of qualified professionals are always on hand to help.
We understand that finding the right air conditioning system can be difficult, which is why we offer a wide range of options to choose from. Our team is dedicated to providing top-quality service at a fair price. We believe that everyone should be able to afford good air conditioning, so we offer competitive rates without compromising on quality or service.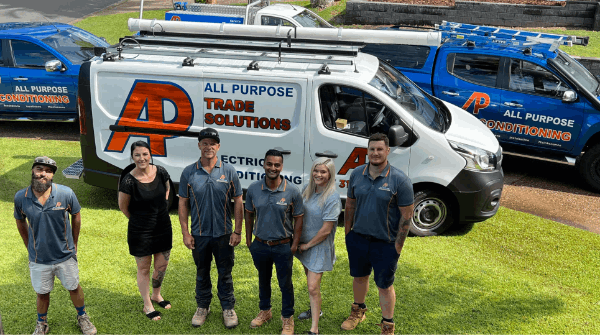 Why choose All Purpose Trade Solutions to install your electrical appliance?
We base our business on customer satisfaction, repeat clients and referrals which demonstrates how much we value each and every customer.
We strive to be the best we can be by enforcing our sworn customer service guarantee, giving you the peace of mind to know that you are always going to be looked after.
We will answer your calls. If for some reason we could not answer your call at that time, please leave a short message and your call will be returned in less than 30 minutes.
Our electricians will be on time. We always try our hardest to make it to every appointment on time, however, it is the nature of this industry for plenty of surprises to pop up, so if we ever are late, we will take $50 off the quoted price of the job.
The electrical safety of your home is always the top priority. Every job we do, big or small, includes a visual electrical safety inspection, to make sure you and your family are safe.
We use top quality products. All the products that we supply will be of the highest quality and be backed by a 12-month warranty.
Our team clean up after every job and will leave your home the same way we found it, if not better.
The electrical work we do complies with all industry, state and Australian standards and we undertake all mandatory testing requirements on every job where it is necessary.

Your trusted local electrical appliance installation experts
Ensure your new electrical appliances are safe and correctly installed by hiring a professional electrician to do the job to the highest standard. Contact our professional electricians at 1300 405 295 or complete our online booking form today for a quick and easy electrical appliance installation today.
ELECTRICIAN FAQ
For more in depth electrician information visit our Electrician Information page