Air Conditioning Service Brisbane
Looking for a professional Air Conditioning Service Brisbane?
Did you know that air conditioners require a regular service to keep them in peak condition? The experienced technicians at All Purpose Air Conditioning can carry out a comprehensive AC service that involves inspection and maintenance procedures to ensure your AC operates efficiently with a minimum of disruption to your household or business. If any parts need replacing the technician will discuss this with you before proceeding. You will find that when you have your AC serviced it will run more efficiently, have less likelihood of breakdowns potentially expensive repairs, and save you money on your power bills and overall extend its lifespan.
Book Brisbane Aircon Service Today
When is the best time to have your aircon serviced?
The recommendation is an annual service, either in early spring just before summer kicks in, or before the cold winter starts. Reverse cycle air conditioners will require servicing bi-annually. Our recommended service schedule for your convenience - How often do I need to get my air conditioner serviced?

Air Conditioner Service benefits
Were you aware that split systems and ducted air conditioners can create an ideal environment for mould growth? Over time, if not serviced, air conditioners can accumulate mould, releasing air that is contaminated with mould spores into your living or working area, potentially impacting the health of your family, employees, or customers. So you can see that regular servicing of your air conditioner will provide you with the assurance that the air you breathe is pure and clean. Additionally, you can have your AC cleaned and disinfected for extra safeguarding.
Split System Air Conditioner Service Brisbane
Servicing a split system AC involves a thorough inspection and maintenance of both the indoor and outdoor units to ensure efficient and trouble-free operation. All Purpose Air Conditioning will advise you of any potential problems that need repair before any work is conducted.
Ducted Air Conditioner Service Brisbane
Our technicians customize our services to meet the specific needs of both our commercial and residential customers in the realm of air conditioner maintenance. In commercial settings, ducted air conditioning systems are typically the most suitable choice, making it crucial to have them routinely inspected by a professional air conditioning technician. This practice is highly recommended to prevent any unnecessary disruptions to your business operations due to an inefficient air conditioning system. Through regular servicing, your ducted air conditioner will undergo a comprehensive evaluation, allowing for the swift identification and adjustment of any problems or issues that may arise.
What is included in an air conditioner service?
What is involved in the service may change depending on the brand, type, and size of the aircon, however, the general steps that are taken include:
Cleaning: One of the primary tasks in servicing is cleaning the various components of the air conditioner. This includes cleaning or replacing air filters, which can become clogged with dust and debris and reduce airflow and efficiency. Evaporator and condenser coils may also be cleaned to remove dirt and grime that can hinder heat exchange.
Calibration: If needed, the technician may calibrate the thermostat and other controls to ensure accurate temperature readings and proper operation.
Repairs: If any issues are discovered during the servicing process, the technician may recommend and perform necessary repairs or replacements. This could include fixing refrigerant leaks, replacing faulty components, or addressing other issues that may have arisen.
Inspection: A technician will inspect various parts of the air conditioner, including the refrigerant lines, electrical connections, and thermostat settings, to ensure everything is in proper working order. They'll check for any signs of wear, damage, or leaks.
Lubrication: Some components of the air conditioner, such as the fan motors and other moving parts, may require lubrication to reduce friction and wear.
Refrigerant levels: Servicing may involve checking and adjusting the refrigerant levels if they are too low or too high, as this can impact the cooling efficiency and performance of the system.
Drainage system: Technicians will inspect the condensate drain to make sure it's clear of blockages, allowing proper drainage of condensation from the unit.
Electrical components: Wiring and electrical connections will be inspected for damage or corrosion. Loose or damaged connections can cause system malfunctions or even pose safety hazards.
Performance testing: After servicing, the technician will often run performance tests to ensure the air conditioner is cooling effectively and efficiently.
Air Conditioning Services Brisbane
We are a one-stop shop for everything related to air conditioning. Whether you have a small aircon that just cools your bedroom or a ducted system that cools and heats your entire household or workplace, we have the industry knowledge to ensure your system stays in peak condition. Our other AC services are installation, repairs, and cleaning for all leading brands including:
Why choose All Purpose Air Conditioning Brisbane?
Fully qualified air conditioning technicians
Experienced industry specialists when it comes to all things aircon
A one-stop-shop when it comes to all your air conditioning needs
Provide honest upfront fixed prices so you pay the same as any other customer, with no surprises or hidden costs
Complete regular training to ensure we are up-to-date with all the latest industry solutions and equipment
Offer cost-effective and affordable options
Prompt and professional air conditioning mechanics who complete every job to the highest industry standard
We call 30 minutes before we arrive and show up when we say we will
We always have customers' satisfaction in mind when completing every job
Proudly owned Australian business
We offer a written guarantee to customers in relation to workmanship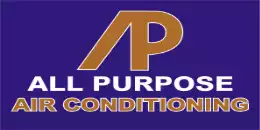 Complete Air Conditioner Services Brisbane
For a thorough air conditioner service, look no further than the All Purpose Air Conditioning team. Simply call 1300 405 295 to schedule an apt or you might prefer to complete our online enquiry form to initiate the process.
We can help with your air conditioning service issues in Brisbane.