Air Conditioning Repairs Brisbane
Need Reliable Air Conditioner Repairs in Brisbane?
Having troubles with your air conditioner? Are you sweltering at home in the Brisbane summer next to a cheap fan because your air conditioner broke? Don't let a broken air conditioner ruin your summer, All Purpose Air Conditioning is here for all your Brisbane air conditioning repair needs. Whether your aircon lacks cool air or is louder than usual, our specialists will diagnose and develop a tailored solution for you.
Book Reliable Air Conditoner Repairs Today
Reliable Air Conditioner Repairs in Brisbane
All Purpose Air Conditioning has a team of air conditioner repair specialists that work with all major brands including:
Our team are trained to provide the best repair solution for your system.
Air Conditioning Repairs for All Types of Air Conditioners in Brisbane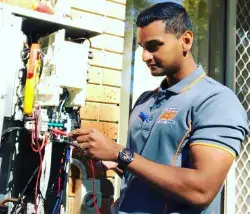 Our air conditioner repair team are masterful at repairing both ducted and split systems.
Ducted Air Conditioners Brisbane
Has your ducted aircon started showing errors on the control panel? A master reset is a good start to try and fix these problems. However, if that doesn't work All Purpose Air Conditioners are your one-stop shop for all air conditioning repairs. Our team have extensive knowledge of ducted air conditioning to help tailor a solution for you.
Split System Air Conditioners & Multi-Split System Air Conditioners Brisbane
Our team are split and multi-split system air conditioner repair specialists. They are trained to deal with all shapes and sizes of split system air conditioners allowing you to get a seamless repair of your system.
Air Conditioner Regas Brisbane
If you see an increase in your electricity bills or your aircon is not cooling? Chances are your system is in need of an aircon regas. Air Conditioners can get low on gas leading to the system icing up or releasing unusual smells or sounds. Air Conditioners can spring leaks in their gas lines leading to a need for an aircon regas. Our team of aircon repair specialists are licensed to safely regas your system.
When Are Air Conditioner Repairs Not Worth It?
Depending on the problem it may be more cost effective to replace the whole unit rather than repair the existing one. Our expert team of air conditioner repair specialists are here to help you achieve the most cost-effective solution for you.
Common Air Conditioner Problems
Our team of expert air conditioner repair specialists are adept at dealing with a plethora of air conditioning problems that may arise some common problems we see are:
Air conditioners refusing to turn on
Blocked filters
Blown circuit breakers and fuses
Ice build-up
Units turning off and on continuously
Rusted brackets
Noisy air conditioners
Our expertly trained team are here to deal with any problems your aircon system is experiencing to get your system back to its original working order.
We can help with your air conditioning repair issues in Brisbane.