Air Conditioning Installation Brisbane
Want a new Air Conditioner Installed in Brisbane?
Want a reliable and expert team to install your new air conditioner? Or looking for some advice on which air conditioning system is best for you? All Purpose Air Conditioning has a team of expert installers ready to help. We supply and install all major brands so we can get the best deal on the best system for you.
Book Reliable Air Conditoner Installation Today
Brands We Supply and Install in Brisbane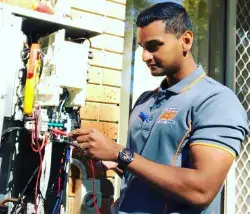 All Purpose Air Conditioning's expert installers are here to help you get the best aircon system for your home or business. We offer ducted and split systems and supply and install all leading brands.
Our expertise in air conditioner installation allows you to get the aircon system that will be the most efficient for your property and ensure it's correctly installed. We supply and install air conditioning for both residential and commercial premises; we are Brisbane's one-stop shop for everything air conditioning.
Ducted Air Conditioning Installations Brisbane
Need climate control for your whole home? Ducted air conditioning systems allow for discreet climate control for your home. Ducted systems can be customised to fit a new or old home and can be zone controlled so you are only cooling the rooms you need. Ducted systems can either have an in-roof unit or an outdoor unit minimising the footprint your system needs to cool your house. We will work closely with you to get the best possible ducted climate control system for your home.
Split and Multi-Split System Conditioning Installations Brisbane
All Purpose Air Conditioning offers all your split and multi-split system needs. Split system air conditioning can be tailored to cool one or more rooms in your home. Split systems are far less intrusive than ducted aircon systems only requiring a few holes to connect the outdoor compressor to the indoor humidifier. This allows for the system to work with a wider variety of homes that cannot fit a ducted system. Split systems are also cheaper to install and purchase when compared to ducted systems. All Purpose Air Conditioning can get the best deal for you on all leading split systems to cool your house and your wallet.
Commercial Air Conditioning Installation Brisbane
Commercial air conditioning helps entice customers and cool staff to ensure an efficient and effective workplace. Whether it's ducted or split we offer all your commercial air conditioning needs and we supply all leading brands. Our ARCtick licensed installers will work to get the most efficient system for your commercial premises to save you money. All Purposes Air Conditioning is your one-stop shop for all your commercial air conditioning needs.
We can help with your air conditioning installation issues in Brisbane.