Air Conditioning Service Moreton Bay
Reliable Air Conditioning Specialists in Moreton Bay
Looking for professional local air conditioner services? Our team of HVAC technicians are experts when it comes to air conditioning services in Moreton Bay.
We offer cleaning, maintenance, and servicing for all makes and models of air conditioners. With over 10 years of experience, we are the experienced air conditioning technicians you can rely on.
Whether it is a split system wall air conditioner or full home ducted air conditioner, our air conditioner technicians can help you. Stay cool this summer with our aircon services. Contact us today to get 15% discount on our services.
Book Air Conditioner Service Moreton Bay
Complete air conditioning services in Moreton Bay
Our technicians can quickly and efficiently assess your air conditioning unit and do what is required to ensure it runs efficiently. Whether it is a routine service, deep cleaning, maintenance or little bit of everything, we can take care of it all.
We provide air conditioner installation, repair, cleaning, and maintenance services for residential and commercial customers for a range of different systems like:
VRV Air Conditioners
Cassette air conditioners
What happens in an air conditioning service?
Regular maintenance is much needed for air conditioners as they can accumulate dust and debris from outside or experience issues such as low gas. If you would like your air conditioner to run efficiently, reducing the operating costs as much as possible, ensure you have it serviced annually (at least) by a qualified technician. We can also organise a maintenance plan for your air conditioner so the system gets serviced regularly
The servicing your aircon requires depends on the brand, type and size. Generally, the steps taken to service air conditioners include:
Cleaning the filters, coils and compressor
Checking the gas level
Testing the airflow
Testing the heating and cooling functions
Inspecting the electrical connections
Check the ducts, zone controllers, outdoor units and fans to ensure they are working as expected
All the internal and external components are checked and tested thoroughly
Our recommended aircon servicing schedule - How often do I need to get my air conditioner serviced?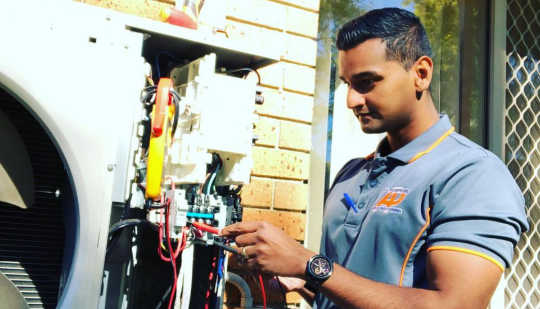 Air conditioner brands we service
Our residential and commercial air conditioning technicians provide services for all leading brands like:
Actron Air
Advantage Air
Kelvinator
Midea
Toshiba
and more!
Professional and reliable aircon experts Moreton Bay
Our team is fully licensed, insured, and qualified
All Purpose aircon technicians are friendly and courteous
We work with quality brands that you know and trust
We're committed to providing quality workmanship and 100% satisfaction to our customers
Reasonable, transparent and upfront prices - NO hidden costs and surprises
We call 30 minutes before we arrive and show up when we say we will so you don't have to wait
All Purpose is a proudly owned and operated local Australian business
We'll arrive in a fully equipped vehicle ensure your job is completed as efficiently as possible
Sign up for our membership program and get 15% off on our aircon services

Your local Moreton Bay air conditioning specialists
If you have any questions regarding our aircon servicing, cleaning, or maintenance services in Moreton Bay areas, contact our friendly technicians on 1300 405 295 . Alternatively, complete our quick online aircon service request form and we will get in touch with you very soon.
We can help with your air conditioning service issues in Moreton Bay.