Air Conditioning Service Brisbane
Your local air conditioner servicing experts
Did you know that air conditioners require a regular service? With regular service, they will run more efficiently and save you money on energy bills. If you don't get them serviced regularly, they will end up costing you more money and break down at the worst possible time.
All Purpose Air Conditioning offers repair, maintenance, cleaning, and upgrade services for all kinds of air conditioner units and leading brands. With over 10 years of experience, our qualified technicians can provide the best climate control solution in Brisbane, Gold Coast, Logan, Redland, Moreton Bay and Sunshine Coast regions.
Book an Aircon Service Today
Why should you get your aircon serviced regularly?
The internal components require regular clean up to remove dust and prevent the growth of mould. Without regular cleaning, the air quality inside your home would be terrible.
With regular cleaning, the ac unit would function efficiently, and save you money on power bills.
Your air conditioner would last longer.
Whether you have a split system air conditioner or ducted air conditioner in a residential or commercial property, your unit requires regular maintenance. It is best to talk to your local air conditioner experts, who can recommend the best service.
Air Conditioning Services
The best time to schedule an air conditioning service is in early spring just before summer kicks in and before winter. If you have a reverse cycle air conditioner, you would need to get the air conditioner unit checked bi-annually. Regular maintenance service is crucial for the effective running of your aircon.
The air conditioner service includes the following:
Cleaning the air conditioner: Clean the filters, evaporator coil, and condenser coils
Check refrigerant gas levels
Ensure the heating and cooling functions are working properly
Check the electrical connections
Check the indoor and outdoor units
Test the thermostat
Check the drainage
Cleaning the louvres
Air Conditioner repair or replacement services
If your air conditioner is leaking water, too noisy, or not keeping you cool, it is important to get it serviced. Depending on the extent of the problem, we can suggest the suitable option for you. Sometimes it can be cost-effective to replace the unit than to fix it. Give us a call today and we would love to help you.
All split system & ducted aircon brands serviced
All Purpose Air Conditioning service all major brands including:
Smart reasons to use All Purpose Air Conditioning services
Fully qualified air conditioning technicians
Regular training to ensure we are up-to-date with the latest industry solutions and equipment
We strive to put our customers first and ensure you are 100% satisfied with the job.
Honest and Upfront Prices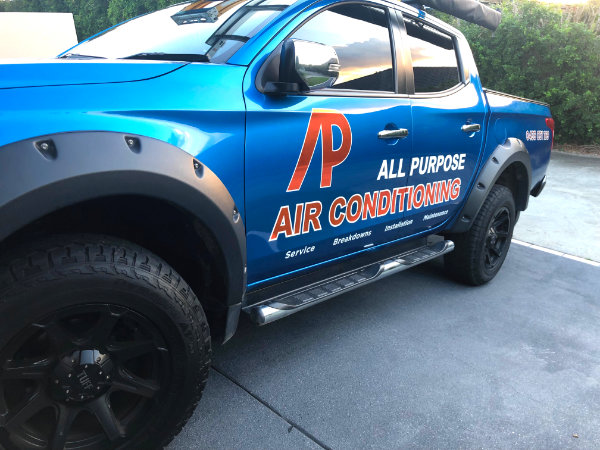 All Purpose Air Conditioning Service
Servicing Brisbane and surrounds, including:
Don't wait for your air conditioner to break before getting it fixed. Whether you are looking for air conditioner repair or cleaning service, we can do it all. Give us a call on 07 3133 1681 or complete our quick online aircon service booking form today.
AIR CONDITIONING SERVICE FAQ
For more in depth air conditioning service information visit our Air conditioning service Information page