Air Conditioning Installation
Your local split system & ducted aircon installation specialists
Planning to install or upgrade your air conditioning unit? Then you are in the right place. All Purpose Air Conditioning technicians offers installation of split systems, multi-split systems, and ducted air conditioning units across Brisbane, Gold Coast, Logan, Redland, Moreton Bay and Sunshine Coast areas . We supply and provide installation services of leading brands like Daikin, Fujitsu, Samsung, and Panasonic. Get in touch with us and avail 15% discount on our air conditioning services.
Book An Air Conditioner Installation Today
Air Conditioner Installation Options
Our services include residential and commercial air conditioner installation options. Our air conditioning experts can evaluate your cooling and heating requirements and recommend the air conditioners best suited for your needs.
Ducted Air Conditioning Installation
In need of a reliable climate-control solution? Ducted air conditioners are the perfect way to keep you, your family and your home, or office, comfortable all year round! This system works by installing an internal fancoil unit in the roof space, which then connects ducts running into as many rooms throughout the house. The individual temperature zones can be adjusted using a thermostat on the wall – enabling easy heating or cooling across multiple areas simultaneously. With its efficiency, ease of use and competitive prices - if you're planning a renovation project or building from scratch, consider incorporating this modern air con choice in your plans today!
The benefits of ducted air conditioning systems are:
Control the temperature of individual space with ducted zone control
Energy efficient
Ideal for large residential homes or office buildings as they can cool the entire space
Makes the space aesthetically beautiful - as the air conditioning unit is not on display, it doesn't hamper the design of your property. The ducts and sleek vents make the interiors pretty
Ducted zone control
With ducted systems, you get more control over your temperature preferences. Temperature zones can be easily created to provide cooling or heating only in the specific areas that need it, giving you greater comfort and convenience than ever before!
Ducted air conditioner installers
The cost of installing ducted air conditioning can be broken down into 3 sections:
Cost of the the ducted air conditioning unit
Cost of the ducted air conditioner components such as vents, ducts etc
Cost of ducted air conditioner installation
When considering a new ducted air system for your home, ensure you factor in the cost of indoor and outdoor units, thermostats, ducting and fitting as well as labour; all of which are essential elements to guarantee reliability and longevity.
Our air conditioner installers always comply with Australian standards, regulations and building codes pertaining to the installation of air con systems. Our air con technicians are extremely experienced installing ducted air con in a new-build home, upgrading an existing system or retrofitting a new system. However, for some older houses, it isn't always possible to retrofit a fully ducted system as these houses were built with less roof space than modern designs.
Split System Air Conditioning
Split system air conditioners can provide cooling in a single room or multiple rooms. They are energy-efficient, noiseless. Also, with both heating and cooling functions, they offer year-round comfort. Our expert technicians can assist you to find the right split system air conditioner for your needs. Save dollars on your bills and ensure your peace of mind from our range of air-con units.
Our split system air conditioner range consist of:
Reverse cycle - provides both heating and cooling
Wall mounted - made up of an indoor unit mounted on the wall and an outdoor unit
Cassette styles - unit is mounted in the ceiling or suspended ceiling and outdoor unit
Floor units - installed on or near the floor and an outdoor unit
Inverter styles - has a variable speed compressor to match the output required, which makes it more efficient as not constantly on full power
The split system air conditioners have many advantages such as:
Commercial air conditioning
Need air conditioning for your commercial premises? Our air conditioner installers are adept at installing a variety of systems to suit your climate control requirements. Creating the right temperature environment at your place of business is essential for a comfortable workforce, whilst also keeping the power consumption low.
If you have small offices, then the split system option may be most applicable as they are energy efficient and can provide heating and cooling year-round.
If you need to cool your office and have control of varied temperatures in different rooms, the ducted air con system may be best suited. We have a range of ducted options and we're happy to help you choose the most efficient to suit your premises.
Multi split system air conditioning installation
Multi split systems are the flexible air con systems you may be looking for! A single outdoor unit can heat or cool from 2 to 14 rooms, with individually controlled indoor air con units! And, you can have the option to choose the style of indoor units such as:
Wall mounted
Cassette
Floor standing
Ceiling mounted
Bulkheads
The single outdoor unit only needs a small amount of space on your balcony or in the garden for ease of access to maintain, service and repair.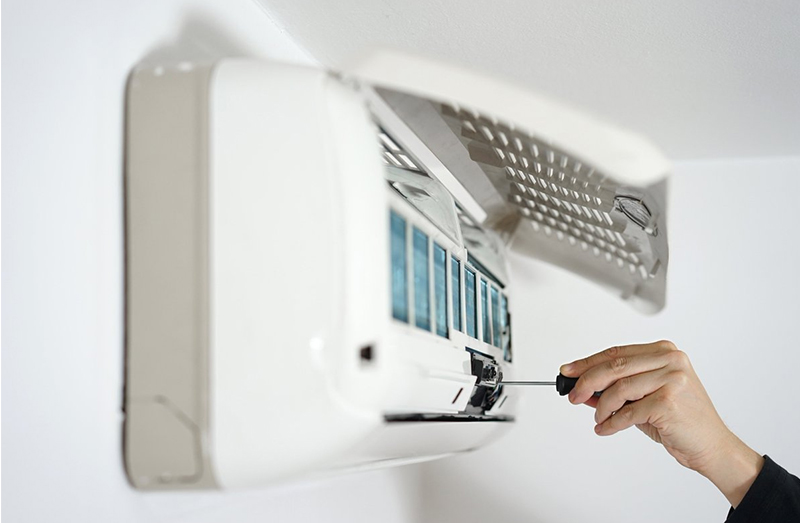 Do I need an electrician to install an air conditioner?
Air conditioners use refrigerants to cool the air. The refrigerants have hydrofluorocarbons (HFC) that have a high global warming potential i.e. it can deplete the earth's ozone layer.
For this reason, only a professional air conditioning technician or electrician can install an aircon. The Australian Refrigeration Council provides licenses to technicians who are trained and qualified to handle refrigerants.
A qualified electrician can install a split system air conditioner. However, multi-split systems and ducted systems need to be installed by a licensed air conditioning technician.
At All Purpose Air Conditioning, our technicians are licensed with ARC and QBCC. We can install, repair and maintain all styles of air conditioners. Plus with our knowledge and experience, we know where to install the unit for maximum efficiency and durability. Call us today to schedule an appointment with one of our friendly technicians who will come out and install your new system as soon as possible.
Why choose All Purpose Air Conditioning?
Affordable
One stop shop for air conditioning installation, repairs and servicing needs
Experienced industry specialists
On-time service guaranteed
Upfront, fixed prices
Honest and reliable service
All jobs completed to the highest standards
Air Conditioner Installation Services
Our team have extensive hands on, experience all across Brisbane. We strive for excellence and ensure you are 100% satisfied with our work. We cover all the leading air conditioner brands including: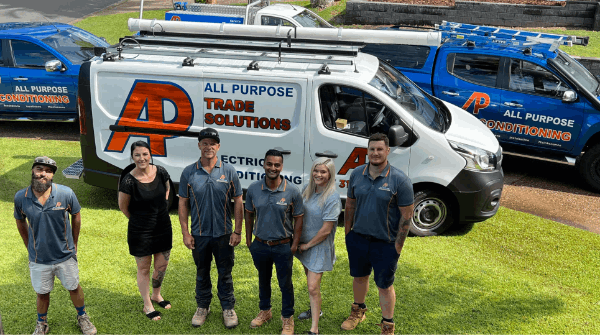 Your local aircon installation experts
Servicing Brisbane and surrounds, including:
If you are planning to install or upgrade air conditioning system, All Purpose Air Conditioning can help. For a quick obligation-free quote, give us a call now on 07 3133 1681 or complete an online aircon installation quote form.
AIR CONDITIONING INSTALLATION FAQ
For more in depth air conditioning installation information visit our Air conditioning installation Information page