Air Conditioning Service Sunshine Coast
Complete air conditioner servicing on the Sunshine Coast
Then the friendly team at All Purpose Air Conditioning are the ones you should call. We offer the best air conditioning service options on the Sunshine Coast, with our qualified air conditioning technicians having over a decade of industry experience to draw on.
Whether your home air conditioning needs a complete service, your commercial ducted aircon needs a clean or just needs a little maintenance, we can provide effective and practical solutions to keep your air conditioning working in peak condition, all year round. Find out how we can help today.
Book Aircon Service Today
Professional Aircon Servicing on the Sunshine Coast
At All Purpose Air Conditioning, we take pride in being one of the leading air conditioning service companies on the Sunshine Coast. We offer prompt and professional service options for all types, brands and sizes of aircons, for both your home and workplace all year round. We also offer maintenance and cleaning services across all budgets, ensuring your air conditioner remains in top working condition whenever you need it.
Our recommended aircon servicing schedule - How often do I need to get my air conditioner serviced?
Ducted air conditioning service and split system service
Whether you have a split system or ducted arrangement in your home or office, our licensed air conditioning technicians can help. With over 10 years of industry experience and on-the-job knowledge and skills, we can quickly and efficiently complete any and all cleaning, servicing and maintenance your system may require to get it back up and running again. If you aren't sure what your unit needs, don't stress! We can take a look and let you know what the best course of action is, and provide affordable solutions every time.
We provide a range of aircon servicing options to ensure your system is operating as efficiently and effectively as possible including: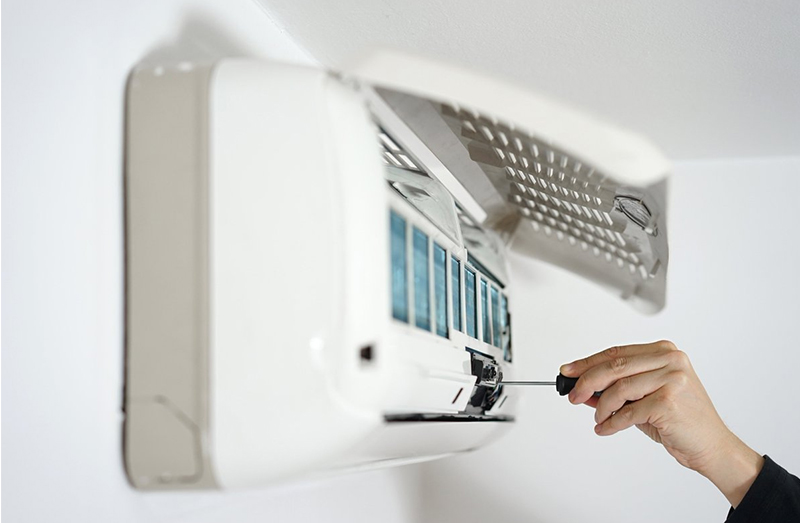 Why should I pay a professional to service my aircon?
If you would like your air conditioning to be working properly all year round, ensuring you regularly have your system serviced by a professional is crucial. It allows for all components of your aircon to be checked and, if necessary, allows for cleaning and/or adjustments to occur. If you give your air conditioning a little servicing love, it will last a lot longer and function consistently better through every season. It is an investment in ensuring your aircon lasts for longer and consistently works like it should.
What is included in an air conditioning service?
What is included in a service may change depending on the brand, type and size of your particular aircon, however the general tasks completed by All Purpose Air Conditioning include:
Clean the filters, evaporator coil, and condenser coils
Check refrigerant levels
Ensure the heating and cooling functions are working properly
Check the electrical connections
Test the thermostat
Check the drainage
Check all other areas of the air conditioner are working effectively
Check the outdoor unit to see that all components are working properly
Our recommended aircon servicing schedule - How often do I need to get my air conditioner serviced?

Your local air conditioning servicing experts on the Sunshine Coast
If you have any questions regarding the servicing options that All Purpose Air Conditioning offer to the Sunshine Coast, or you would like one of our qualified air conditioning technicians to attend your home or business, give us a call today on 07 3133 1681 or complete our online aircon service booking form.
We can discuss all the available options when it comes to keeping you air conditioning running like it should, so trust the people that are passionate about breathing life into buildings and discover how much cooler life can be with us on your side.
We can help with your air conditioning service issues in Sunshine Coast.