Can air conditioners remove smoke?
Can your air conditioning remove bushfire smoke from your home?
Maintaining the air quality in your home is important during normal day to day living but becomes vital during times of high pollution, excessive dust, or local bushfires.
Depending on the wind conditions and rain, smoke from bushfires can hang around for days, and sometimes weeks, after the fire is out. This lingering smoke haze can pose serious health issues for those with asthma and respiratory problems. However, even healthy residents can experience lung, eye, nose and throat problems from prolonged exposure to smoke.
Important note - this advice is of a general nature only. Follow the instructions from your local fire and emergency services in the event of a bushfire emergency.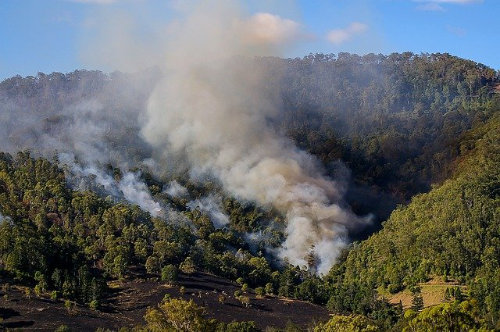 Air quality in Brisbane and Queensland can be found on the government Live Air Data page des.qld.gov.au and all other states and territories have a relevant monitoring authority.
Keep the smoke out of your home
Preventing smoke from entering your home as much as possible is one of the best ways to protect your family and pets. Try to close the doors and windows in your home early on or as soon as you hear about a bushfire or smoke buildup.
Note - ensure you follow the advice from your local fire service on staying safe during a bushfire emergency. Only close up your home if it is safe for you to do so and ensure the temperature and airflow in your home is comfortable at all times.
Use draft excluders and door snakes to block any potential drafts under doors or windows to stop smoke re-entering the home.
Using air purifiers to clear the air
Air purifier appliances can be used to help remove the smoke and fine particles that have entered your home. These units are usually portable which allows you to move them from room to room around the house wherever they are needed.
The air purifier gently draws the air in and passes it through a system of filters to remove unwanted particles. Some air purification systems can also sanitise the air for added protection.
Using your air conditioning system to reduce smoke in your home
Your split system or ducted air conditioning system can also be used to remove some of the smoke from your home during a local bushfire event. While aircon's are not designed to filter smoke particles they can be used to an extent to lower the level of smoke inside.
Some air conditioners can be set to draw fresh air from outside. If your aircon does this it's essential to turn it off the 'Fresh Air' setting to ensure it's not continually drawing smoky air in.
It's important to carry out regular air conditioner servicing and cleaning to ensure your unit and filters are in the best condition to clear and freshen the air in your home when it's getting smoky outside.
Remember that smoke and allergens can also gather on hard surfaces like walls, countertops and floors as well as soft surfaces like carpet, furniture and curtains. A thorough cleaning of these areas is important during and after a bushfire to remove the smoke smell and to stop the redistribution of particles once surfaces are disturbed.
If you are in Brisbane, ensure your air conditioning system will help protect your family and pets during a bushfire by booking an aircon service and clean from the professionals at All Purpose at 1300 405 295 or by completing our quick online aircon service booking request form today.