Air Conditioning Gold Coast
Reliable air conditioning technicians on the Gold Coast
Need a cool reprieve from the heat of the Gold Coast sun? All Purpose Air Conditioning are your fully qualified and experienced HVAC technicians to install, repair and maintain all air conditioning systems so you can enjoy cool comfort at your home or business.
From ducted aircon to split systems and multi split systems, we supply and provide first class installation services for leading air conditioning brands like Carrier, Daikin, Fujitsu, LG and Samsung.
Book an aircon technician today for your free quote!
Book Air Conditioning Gold Coast Today
Air Conditioning Installation Gold Coast
All Purpose Air Con is your one-stop-shop for supply and installation of your new air conditioning system! Our specialist technicians can design, and advise you on, the most suitable aircon solution for your requirements and budget.
Whether it is air conditioning for one room of your home or an entire commercial property, we are your best, local, honest and reliable HVAC installation team on the GC but, don't just take our work for it, check out our 5* reviews!
We specialise in complete installations of:
All air conditioning installations must be conducted by a professional technician that holds an ARC licence to handle the refrigerants needed by AC systems. All Purpose techs are ARC and QBCC licensed.
Our technicians will evaluate your cooling and heating needs and can provide recommendations on customised aircon solutions tailored to your building and requirements.
Split System Air Conditioners Gold Coast
Split system air conditioners are the most efficient way to cool or heat individual rooms. They can be wall-mounted, but come with an outdoor unit that is typically placed on the exterior of your house for maximum effectiveness!
Ducted Air Conditioning Gold Coast
Ducted aircon systems are the reliable way to control every space in your property: as you can cool or heat multiple rooms separately, be it in your home or even whole commercial buildings!
The condenser and fan located outside pumps air through the 'ducting' in your roof which controls where you distribute it throughout the home with just one switch - no more running back-and-forth between rooms is needed because this zone control technology does all the work for you automatically.
Air Conditioner Repairs Gold Coast
Air conditioning system on the blink? All Purpose AC provide a comprehensive air conditioning repair service throughout the Gold Coast.
From split system repairs to ducted system repairs, we offer same day service and emergency aircon repairs 24/7 for all of our customers.
We pride ourselves on repairing your air conditioning unit efficiently and effectively, first time and all our workmanship is covered by our 100% guarantee. Our vehicles carry spare parts so many issues can be fixed there and then by our air conditioning technicians.
Our technicians see a range of aircon problems that we fix each week, including:
Indoor unit dripping water
Blowing hot air when set on cool
Noisy air con units
Rust present
Sudden high power bills due to AC system inefficiency
Replacement of refrigerant gas
Fan repairs
If your aircon is showing signs of any of the above, or has any other issue, give us a call and we'll arrive promptly to complete the repairs required. Book your aircon repair now.
Air Conditioning Servicing & Cleaning Gold Coast
Did you know that air conditioners need regular maintenance checks? If any aircon system isn't running efficiently, your power bills can skyrocket; but with regular servicing and cleaning, this can easily be avoided.
Having regular servicing performed on your air conditioning system will ensure that any dust is removed and prevents the growth of mould, which is detrimental to the air quality in your property. Servicing will also extend the lifespan of your AC system!
An All Purpose air conditioner service includes the following:
Refrigerant gas levels are checked
Cleaning of the filters, evaporator coil, and condenser coils
Examination of the electrical connections
Check the heating and cooling functions are working properly
Inspect the indoor and outdoor units
Testing of the thermostat
Ensure the drainage is working properly
Cleaning the louvres
Servicing all brands of air conditioners
All of our products are high quality and we will help you find the right one for your home or business. Our installers have years of experience, so they know how to get it done quickly and correctly. We are trained in working with all major brands including: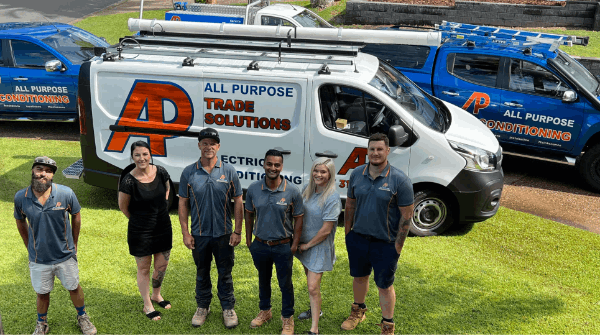 Your trusted local air conditioning specialists on the Gold Coast
For all your air conditioning needs, including installation, service or repairs on the Gold Coast, we have got you covered. Call us today at 1300 405 295 or complete our online air conditioning booking request form.