Panasonic Air Conditioner Installation
Top quality Panasonic air conditioning installation service Brisbane & Gold Coast
It is no surprise when people hear "Panasonic" we immediately think of quality cooling. Panasonic has been in the HVAC industry since 1958 so it's hard to find better quality components elsewhere. With such a wide variety of types of AC systems available it can be boggling to understand which size & type you will need to properly cool your home.
At All Purpose Air Conditioning, we do the hard work for you, by helping you identify the exact air conditioner system needed to efficiently and economically cool your home. Call All Purpose Air Conditioning on for your free Panasonic air conditioner installation quote.
Book Panasonic Aircon Installation Today
The Panasonic AC range - heating, cooling & features
Panasonic features fantastic energy efficiency with their advanced inverter technology which has been designed to save on your power bill and provide environmentally conscious temperature control. The Panasonic air conditioners come in a wide variety of types from residential to commercial. Some of the features and types include:
Cooling only Panasonic inverter air conditioners
Reverse cycle air conditioners for cooling and heating
Air purification system (naneoX) removes bacteria and pollutants
Standard reverse cycle split system air conditioners
Panasonic Aero series + Smart Control Technology ( voice & smart phone control )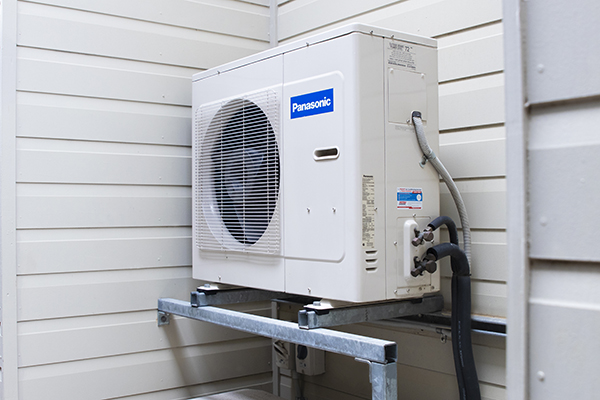 Panasonic Inverter Technology & Energy Savings
Panasonic have been in the game since the 50's, over the years the technology used in Panasonic aircons has changed drastically for the better. In the modern day most new AC systems feature Inverter technology, but what is inverter technology, and how does it save on your power bill?
Standard air conditioner compressor
In the past standard ducted systems, split systems and most commonly window hanging air conditioner systems featured an AC (alternating current) compressor. This compressor would power up and run at it's specified wattage ( let's say 1000 Watts ), cooling the room with refrigerant.
Once the desired temperature was reached the compressor would shut off completely drawing 0Watts, but leaving only the fan to run. The compressor would remain off until the temperature sensor detected about a 2 degree change, it would then turn back on drawing 1000 Watts again.

Panasonic Inverter Compressor
A Panasonic Inverter Air Conditioner features a different type of compressor. An inverter is used to control the power going to the compressor allowing for much more exact speed tuning. Similar to the standard compressor the Inverter System will run at 1000Watts until the room is cool, but here is where the magic happens. Once the room has been cooled the compressor stays ON, but how does this save on your power?
Well this is where the inverter comes in. Although the compressor is still technically on the amount of power being used is nearly half of what it was before ( 500 Watts ) this slows the compressor to just the right speed to maintain coolant flow which maintains the desired room temperature. This functionality allows for very efficient cooling and amazing air con energy savings.

We have also developed a membership program to support those who support us. When you sign up to this program, you'll receive a 15% discount on a range of air conditioning services!
Your local Panasonic air conditioning specialists Brisbane, Logan & Gold Coast
If your interested in a Panasonic air conditioning unit, or need help with your existing Panasonic system give us a call on 1300 405 295 or complete our booking request form and we will get you up and running in no time.
Other air conditioning brands we supply, install and service include:
AIR CONDITIONING INSTALLATION FAQ
For more in depth air conditioning installation information visit our Air conditioning installation Information page