Split System Air Conditioning Repairs
Top quality split system air conditioning repairs
Queensland summers can be brutal, and if your air conditioning unit isn't working properly, it can make the heat even harder to handle. Not being able to cool down your home or office when it's hot outside is incredibly frustrating. It can also be dangerous - heat stroke is a real danger during extreme weather conditions.You may not know who to call for help, or you may be worried about the cost of repair.
The team at All Purpose Air Conditioning offer a range of options to suit all your split system air conditioning repair needs across Brisbane. We assist both residential and commercial clients with a variety of different brands and types of split system air conditioning units , allowing to provide solutions to customers with a range of repair needs.Get in contact today to find out how we can help!
Book Split System Aircon Repairs Expert Today
Complete split system aircon repairs
When it comes to air conditioning repairs, you want to ensure that they are done right the first time. We provide comprehensive repairs to a variety of split system air conditioning brands of all shapes and sizes. We know that different systems have different repair needs, which is why we offer complete options to suit almost every aircon repair needs.
Experienced split system air conditioning repair technicians
The All Purpose Air Conditioning repair technicians are some of the best in the business, with their extensive industry experience allowing them to quickly and efficiently locate the issue and provide practical and affordable solutions to ensure the best repairs for your split system unit. We wouldn't want our system to be working at less than 100%, so so you shouldn't have to either!
We Repair All Split System Air Conditioner Brands
Our technicians have the experience repairing all premium air conditioning brands like:
Why All Purpose Air Conditioning?
At All Purpose Air Conditioning, we strive to put our customers first for each and every job we complete. From the moment you get in contact with us until its finalisation, we ensure we make your satisfaction our number one priority. We are :
Fully qualified air conditioning technicians
Experienced industry specialists when it comes to all things aircon
A one-stop-shop when it comes to all your air conditioning needs
Provide honest upfront fixed prices so you pay the same as any other customer, so no surprises or hidden costs
Complete regular training to ensure we are up-to-date with all the latest industry solutions and equipment
Offer cost effective and affordable options
Prompt and professional air conditioning mechanics who complete every job to the highest industry standard
We call 30 minutes before we arrive and show up when we say we will
We always have customers' satisfaction in mind when completing every job
Proudly owned Australian business
We offer a written guarantee to customers in relation to workmanship
We have also developed a membership program to support those who support us. When you sign up to this program, you'll receive a 15% discount on a range of air conditioning services!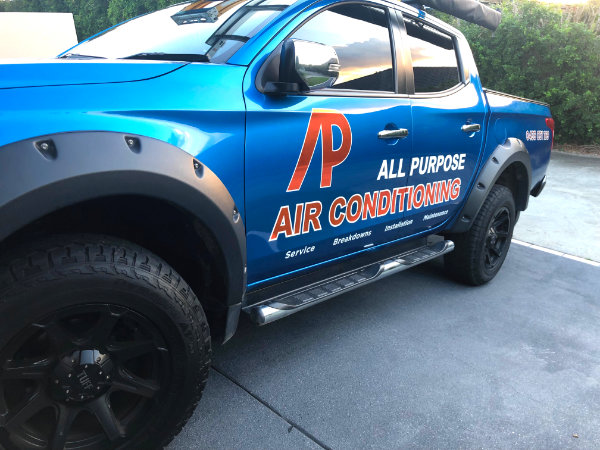 Local split system aircon repair specialists
If you would like to know a little more about the split system aircon repair services that All Purpose Air Conditioning offer around Brisbane, or would like to arrange one of our experienced repair technicians to attend your home or office, give us a call today on 07 3133 1681 or complete an online quote form . Trust the people that are passionate about breathing life into buildings and discover how much cooler life can be with us on your side.

AIR CONDITIONING REPAIR FAQ
For more in depth air conditioning repair information visit our Air conditioning repair Information page