What is PeakSmart Air Conditioning?
Demand Enabled Response (DRED) air conditioners
DRED (Demand Enabled Response) or PeakSmart air conditioner allows your electricity provider to moderate the power consumption of the aircon during peak periods. To reduce pressure on the mains grid your electricity retailer can limit the power that the aircon can consume during peak load times. Air conditioners are a major contributor to peak electricity demand on hot summer days. For this reason, homeowners and businesses who install these air conditioners can contribute significantly to reducing the high demand on the infrastructure during peak times and also save money.
According to ABC News, over 100,000 households have PeakSmart aircons fitted. This system is a key part of Queensland's demand management initiative in which over 55% consumers have enrolled. This program helps Queenslanders avoid blackouts during the steaming hot days through summer.
Demand management has allowed the state to avoid spending huge sums — likely in the billions — on network upgrades, which would otherwise be passed on to customers through higher power bills, says Peter Price, an executive general manager at Energy Queensland.
How does DRED or PeakSmart Air Conditioner work?
If you have an air conditioner with DRED or PeakSmart feature enabled, your energy retailer will send a signal through the electricity network to reduce the power consumption temporarily when peak demand occurs. It is similar to running the unit in economy mode for a while, it doesn't turn the aircon off completely. It is only done when the electricity network reaches peak demand. It won't really affect the cooling capacity of the unit and probably you won't even notice when it happens as it is designed as a "Set and Forget" system, only the power consumption of your unit will be reduced
If your aircon has been running awhile when PeakSmart is enabled, you might not even notice the difference. This feature will help you save money and reduce the need for increased spending on the power infrastructure to meet the growing energy demand.
How is PeakSmart set up?
PeakSmart Ready air conditioners have a small receiver which can be controlled by your energy provider. This receiver can be fitted into the unit at the time of installation or it can be retrofitted to your existing aircon. They have been in the market since 2011, so if you have purchased your model recently, it may already be PeakSmart ready. If it is an eligible model, your aircon installer just needs to convert it to PeakSmart active and connect the system.
Both residential and business owners can install PeakSmart air conditioners with many big energy users, like Stadiums Queensland which is in charge of the major sports facilities in QLD, getting involved in this program.
Benefits of PeakSmart Air Conditioning
PeakSmart reduces the demand on electricity infrastructure during peak times. This will in turn decrease the need to develop more infrastructure and also keep electricity prices low. Moreover, you can reduce your energy consumption, and get rewarded by up to $400 when you purchase & connect a unit.
How often is Peaksmart activated?
According to Ergon and Energex, Queensland's energy infrastructure is robust and PeakSmart may be activated only a few days of the year for a short period of time.
Unlike Tariff 33, your aircon will keep operating even in extreme weather conditions. However, if your aircon is connected to Tariff 33 (economy tariff), you won't be able to switch to PeakSmart.
Energy Retailers Provide Incentives for DRED Air Conditioners
Energex and Ergon (in Queensland) provide incentives to customers to switch to DRED air conditioners.
You can get a cashback of up to $400 for the installation of a PeakSmart air conditioner or converting an existing aircon to PeakSmart. Residential customers can claim cashback for up to 5 air conditioners.
PeakSmart or DRED enabled Air Conditioners
You have heaps of options and models to choose from when purchasing a PeakSmart air conditioner across several brands including: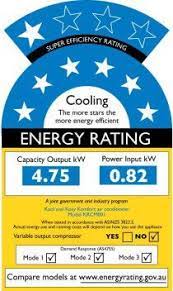 To check if your air conditioner is PeakSmart Ready, check the energy label. All the boxes should be ticked as shown in the picture above.
PeakSmart Air Conditioning Brisbane
The experienced air conditioning installation team at All Purpose Air Conditioning are available to install your PeakSmart air conditioner. For more information, give us a call on 1300 405 295 or complete our online booking form today.
References