Air Conditioning Sunshine Coast
Trusted air conditioning specialists on the Sunshine Coast
Need some cool respite from the heat on the Sunshine Coast? Let All Purpose Air Conditioning help!
We are the #1 aircon supply, installation, repair and servicing company on the Sunny coast. Our HVAC technicians are fully qualified and hold a wealth of experience and knowledge on all things aircon for residential and commercial properties.
Our 5* reviews are testament to our outstanding customer service when installing all leading brands of air conditioning systems including Panasonic, Haier, Mitsubishi Electric, LG and Fujistu. Our technicians can provide expert advice on whether ducted aircon, split system or multi split system AC is best suited for your needs.
For reliable SunCo air con specialists, book an All Purpose technician today!
Book Sunshine Coast Aircon Service Today
Air conditioning installation Sunshine Coast
All Purpose provides full A-Z air con services for supply and professional installation of your new air conditioning system! Our specialist technicians can provide any advice you need with regards to the best suited air con system for your property, requirements and budget constraints.
Whether you need new air con for a single room, the whole house or an aircon system design for a whole commercial building, our HVAC techs are honest and reliable and will always work with you to provide the best service on the Sunshine Coast!
We specialise in complete installations, by ARC and QBCC licensed technicians, of:
Split system installation
Are you looking to install a split system air conditioner? We're on hand to install both single split systems and multi-head systems. Our fully qualified technicians can carry out installations of all leading brands of split systems and multi-head systems, including Daikin, Mitsubishi, Kelvinator, Hitachi, Gree and more.
Your new air conditioning system will perform efficiently and to its best because our technicians will ensure everything is installed correctly so that your unit runs smoothly for years to come. Our workmanship is backed by our 100% satisfaction guarantee.
Ducted air conditioning
Do you want to cool your entire space, home or building without having to run around and adjust the temperature in different rooms? Ducted air conditioning systems are a great way to keep your whole home at the perfect temperature, no matter where you are.
The condenser and fan located outside pumps air through the 'ducting' in your roof which controls where you distribute it throughout the home with just one switch - zone control on ducted systems does all work for you automatically.
You can finally have complete control over how cool or warm each room is by simply clicking a button on a central controller. This means that everyone can be comfortable regardless of their location.
All Purpose Sunny Coast ducted aircon installations are completed by our fully qualified technicians who will take care of everything from start to finish. We guarantee 100% satisfaction or we'll come back free of charge until it's done right.
Complete air conditioner repair services Sunshine Coast
Do you have an air conditioner that needs some tuning to get back its best? If your aircon isn't working, it can be very frustrating and uncomfortable. We understand that getting back to enjoying the cool breeze of a functional system as soon as possible is top priority. That's why we offer same-day aircon repair service and urgent assistance for all makes and models. We know how important it is for you to get your AC up and running again, so we work hard to make sure our customers are taken care of promptly.
Our technicians are trained to repair all major brands, so they can fix any problem with ease. They will also provide honest advice about what might need repair in the future based on their assessment of your unit during the visit – no sales pressure or unnecessary replacements. It's just another way that we go above and beyond for our customers every day.
Servicing & aircon cleaning Sunshine Coast
If you want to ensure that your aircon is always working at its best then give us a call today. We know just how important it is for your equipment to work properly during those long summer months when everyone wants to stay nice and cool.
We are the leading experts in air conditioning cleaning and servicing. Our fully qualified technicians can carry out cleaning, regassing, servicing of all styles and models from the leading brands. You can be sure that we will do our best to keep your system running at its optimum performance level. So don't hesitate – pick up the phone right now and let us take care of everything for you.
We work with all leading air conditioner brands
All of our products are high quality and we will help you find the right product suiting your needs. Our installers have years of experience, so they know how to get it done efficiently and correctly. We are trained in working with all major brands including: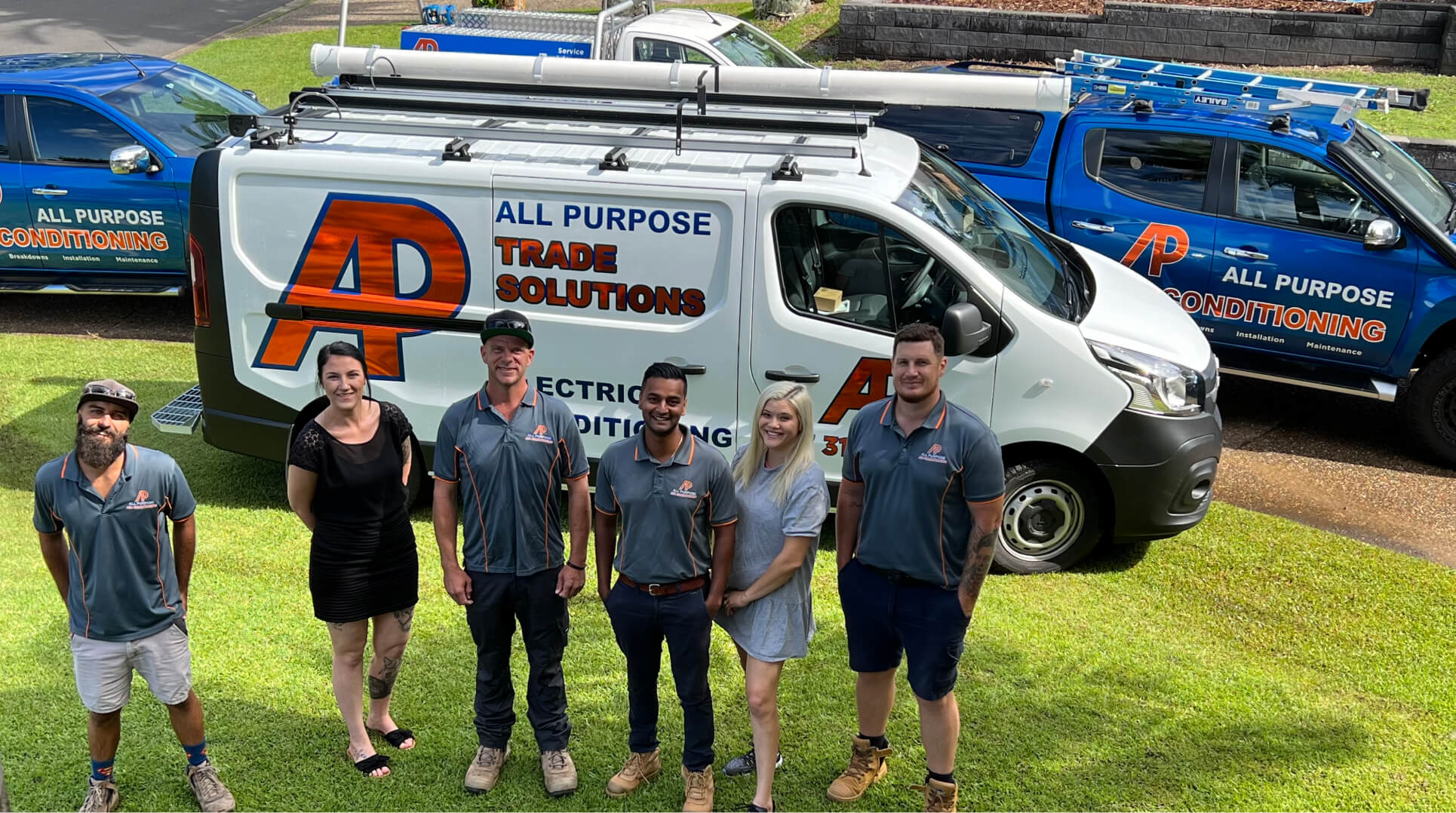 Your local air conditioning technicians Sunshine Coast
For all your aircon needs - installation, service or repairs anywhere on the Sunshine Coast, give us a call on 1300 405 295 or complete our online aircon booking form.