Air Conditioners Supply & Installation
Looking for a new air conditioner? Want some advice on which is best? All Purpose Air Conditioners are industry experts when it comes to air conditioning. We supply and install all major brands. Our team specialises in getting the right air conditioner for you. We only supply air conditioners we know last. Our team have extensive knowledge of air conditioners and have seen the best and worst of air conditioners so we know which systems will last and save you money.
If you want a free air conditioner install quote for your home call All Purpose Air Conditioning at 0488 856 939 or use the booking form below.
Book A Free Air Conditioner Installation Quote Today
So Why Buy Your Air Conditioner From Us and Not A Retailer?
There are considerable benefits to getting an air conditioner through us rather than a retailer:
Our technicians have years of experience and training to know which air conditioners will last.
We offer free quotes (installs only) so our air conditioner installers can come to your home to determine which system will suit your house and your needs.
Our team are trained to install any air conditioner we supply.
We only offer air conditioners from brands we trust.
We offer honest and upfront fixed prices so you can better budget knowing there won't be any unexpected costs.
We also are expertly trained to offer servicing and repairs of all units we install.
We offer zip payment plans to make it a less financially daunting process.
All Purpose Air Conditioning offers an aircon for any situation and our experts are here to help you get the best air conditioner for your home or business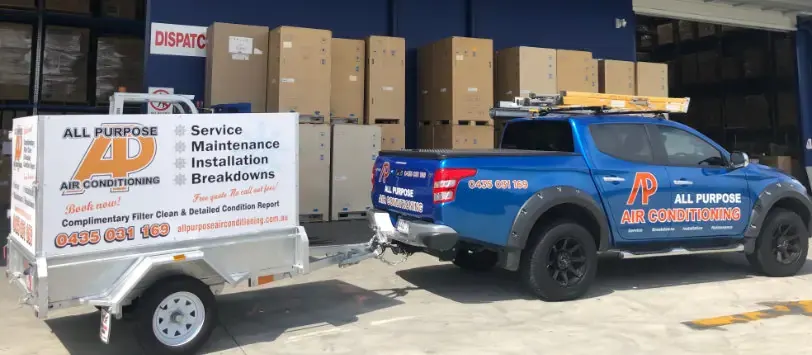 What Brands Do We Supply?
All Purpose Air Conditioning supplies all major brands. We have experience with most brands of air conditioners and know which brands last. The major brands we supply are:
Our team have extensive experience and training to install, service and repair all of these brands to help you with any problems your air conditioner may have.
So Which Air Conditioner System Should You Get For Your Home?
If you want an expert opinion on which system is best for your home call us or use the online booking form for a free installation quote. We install all types of air conditioners and will work with you to get a system that will integrate seamlessly into your home. Air conditioners have two types of systems, ducted and split. Both of these systems have their benefits.
Ducted Air Conditioner Installation
Ducted air conditioners are common in new homes. Ducted systems have always been popular with large-scale commercial offices and stores as they offer efficient large-area cooling. Some major benefits of ducted systems are: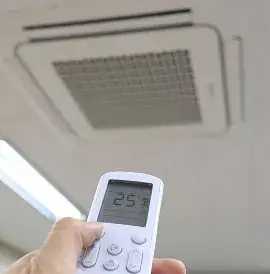 They can cool every room in the house from one compressor via a series of ducts usually in the roof cavity.
Ducted air conditioners can be zoned to allow set rooms to be cooled instead of the whole house to save on electricity.
The Indoor unit is made up of a fan and heat exchanger that can be stored discreetly under the floor or in the roof. It is connected to an outdoor unit not much bigger than a split system compressor this allows the system to have a small footprint in your home.
The ducts can blend in with your existing home, unlike a split system that can stick out within a room.
Are compatible with a wall-mounted control panel or a hand-held controller. Some systems do have wireless connectivity to operate the system from your phone.
There is a wide range of indoor and outdoor units allowing you to find a system that works for you.
There are also some important things to note when thinking about getting a ducted system:
They do require a roof cavity to house the ducting and the indoor unit that is rated to hold its weight.
They can run more expensive than a split system if you only need one room cooled with a system that is not zoned.
They are more expensive than a split system to install and will take longer to install.
The installation process is more invasive than a split system installation and will require more modifications to be made.
If you have any questions about whether a ducted air conditioner is a pick for your home contact our team for a free installation quote where we will consult with you as to which system will best suit your home.
Split and Multi-Split Air Conditioner System Installations
Split system air conditioners are popular with older homes and installations in existing homes. There are many benefits our customers find with split systems over ducted systems:
Can be either a single indoor unit or can be a multi-split system where there is a larger outdoor compressor that services several indoor units in multiple rooms.
They are less invasive to install and fit in most homes.
Cheaper to install than ducted systems.
You have individual control over each unit as you can switch the unit off in a room if you are not using it there to save money.
You can have bigger units in bigger rooms and smaller units in smaller rooms.
Installation costs can be spread out by slowly getting units for each room instead of paying for a whole house system in one go.
Split systems offer the perfect solution to anyone looking to install an air conditioning system on an existing home or need a cheaper solution for their air conditioning needs. There are some significant notes to take into consideration when looking to purchase a split system for your home:
The indoor unit can stand out on the wall and is not as discrete as a ducted system.
They are not as efficient as ducted systems in big rooms as they can only push the air so far.
They do not maintain a consistent temperature throughout a bigger room as efficiently as a ducted system.
They are not as efficient in rooms with interior walls.
They can end up with multiple external units if you are trying to cool a whole home or when getting one system at a time over a longer period.
If you have any further questions as to whether a split or deducted system is best for your home contact us to book a free installation quote and we will consult with you on which system is best for your needs.
Your Local Air Conditioner Installation and Supply Experts
Our team service:
Our team live local to this area so we know the weather your air conditioners will deal with. Contact All Purpose Air Conditioning for a free quote on the installation of your new air conditioner.
AIR CONDITIONING INSTALLATION FAQ
For more in depth air conditioning installation information visit our Air conditioning installation Information page