LG air conditioning service
Your local LG air conditioner servicing experts
It is important to service your LG air conditioner on a regular basis. With this in mind, your air-con will run more efficiently and save you money on energy bills. If you don't get them serviced regularly, they will end up costing you more money, and break down at the worst possible time.
Our technicians at All Purpose can carry out all the necessary system checks, diagnostics and routine repairs to ensure your LG air conditioner keeps your home or business cool in summer and warm all through winter.
Book An LG Aircon Service Today
If your air conditioner is leaking water, is too noisy, or not keeping you cool, this is the time to get it serviced. Depending on the extent of the problem, we can suggest a suitable option for you. Sometimes replacing the unit will be the most cost-effective option than actually repairing it.

Why should you get your LG air conditioner serviced regularly?
The internal components require regular cleanup to remove dust and prevent the growth of mould. Without regular cleaning, the air quality inside your home would be terrible.
With regular cleaning, the ac unit will function efficiently, and save you money on power bills.
Your air conditioner would last longer, giving you peace of mind.
Whether you have an LG split system air conditioner or LG ducted air conditioner in a residential or commercial property, your unit requires regular maintenance. It is best to talk to your local air conditioner experts, who can recommend the best service.
When is the best time to schedule a service?
As regular maintenance service is crucial for the effective running of your LG aircon, the best time to schedule an air conditioning service is in early spring just before summer really kicks in and then before the cold winter weather is upon us. The best practice is to have your LG Split system air conditioners checked bi-annually.
Great reasons to use All Purpose Air Conditioning
Fully qualified air conditioning technicians
Regular training to ensure we are up-to-date with the latest industry solutions and equipment
We strive to put our customers first and ensure you are 100% satisfied with the job.
Honest and Upfront Prices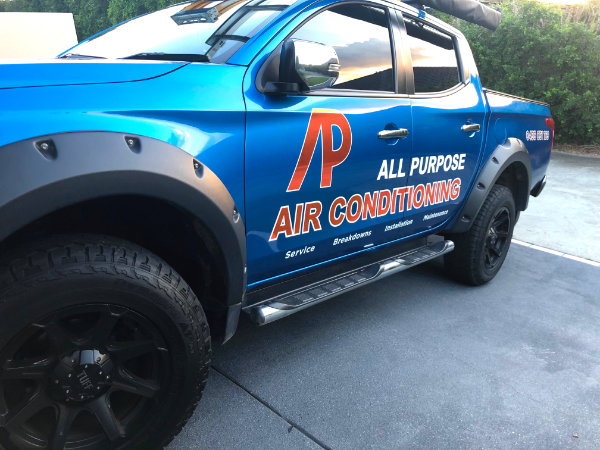 Your trusted LG aircon service specialists in Brisbane & SEQ
We specialise in air conditioning installation, repair, service, and maintenance for both commercial and residential clients. You can trust the experts with over a decade of industry experience under their tool belts.
Servicing Brisbane, Gold Coast, Logan and Sunshine Coast regions. For a quick obligation-free quote give us a call now on 1300 405 295 alternatively your can request a quote online.
AIR CONDITIONING SERVICE FAQ
For more in depth air conditioning service information visit our Air conditioning service Information page