Air Conditioning Service Logan
Your local Logan air conditioning servicing specialists
The air conditioning technicians at All Purpose Air Conditioning have over 10 years industry experience, our friendly team offer the most extensive range of servicing, cleaning, and maintenance options in Logan, for both your home and office.
We service all major brands, sizes and types of air conditioning units, with prompt and professional solutions for every problem. Book a split system or ducted aircon service in Logan today.
Book Aircon Service In Logan Today
Professional and reliable aircon servicing Logan
At All Purpose Air Conditioning, we take pride in being one of the leading air conditioning service companies in Logan. We offer extensive and customised servicing arrangements for each and every one of our customers, as we know that every home and office has different aircon needs. We can develop solutions to even the most complex or unusual air conditioning issues, ensuring that your system continues working at 100% every day you need it.
Why should I get my aircon serviced?
If you would like your air conditioning to stay in top condition all year round, ensuring you regularly have your system serviced by a qualified professional is crucial. It allows for all components of your aircon to be checked and, if necessary, allows for cleaning and/or adjustments to occur. If you give your air conditioning a little servicing love, it will have a longer life and function consistently better through every season.
What is included in aircon servicing?
What is involved in a service may change depending on the brand, type and size of the aircon, however the general steps that are taken by the All Purpose Air Conditioning specialists include:
Thoroughly clean the filters
Check the refrigerant gas levels
Check the air flow
Ensure that the cooling and heating functions are properly working
Inspect all electrical connections
Check all other areas of the air conditioner are working like they should
Check an outdoor units to see that they are working properly, including the fan
Ducted air conditioning service and split system service in Logan
We understand that everyone has differing needs when it comes to air conditioners, which is why we offer comprehensive services for ducted and split system arrangements. Whether the ducts in your office aircon need a little bit of attention, the unit in your lounge needs a clean or the multi-unit system throughout your workplace needs a full service, our qualified air conditioning technicians can help.
We offer extensive, cost effective options for every brand and size, so your aircon will remain in tip-top shape all year round.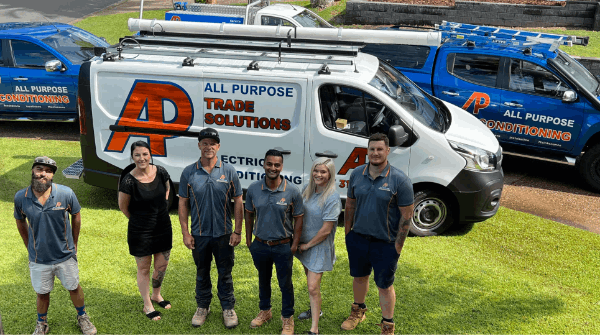 Excellent reasons to use our aircon team in Logan
At All Purpose Air Conditioning, we strive to put our customers first at every turn. From the moment you contact us right up to when your project is finalised, we make your satisfaction our number one priority. Additionally we are:
Fully qualified air conditioning technicians
Complete regular training to ensure we are up-to-date with all the latest industry solutions and equipment
A one-stop-shop when it comes to all your air conditioning needs
Provide honest upfront fixed prices so you pay the same as any other customer, so no surprises or hidden costs
Experienced industry specialists when it comes to all things aircon
Offer cost effective and affordable options
We offer a written guarantee to customers in relation to workmanship
Prompt and professional air conditioning mechanics who complete every job to the highest industry standard
We call 30 minutes before we arrive and show up when we say we will
We always have customers' satisfaction in mind when completing every job
Proudly owned Australian business
We have also developed a membership program to support those who support us. When you sign up to this program, you'll receive a 15% discount on a range of air conditioning services.

Your Logan air conditioning service specialists
If you have any lingering questions regarding the maintenance, cleaning or servicing options available in the Logan area, give All Purpose Air Conditioning a call on 07 3133 1681 or complete an online aircon service booking request form today.
We can discuss all the available options when it comes to keeping you air conditioning running like it should, so trust the people that are passionate about breathing life into buildings and discover how much cooler life can be with us on your side.
We can help with your air conditioning service issues in Redland Bay.